CORONAVIRUS INFORMATION : updated 26/03/20 @ 4pm
In line with advice from the Scottish Government Paisley Housing Association's office is now closed, but our staff are working from home to provide as much assistance as we can.
Our main priorities are emergency repairs and telephone advice for our tenants. We are also working on how best to support elderly and vulnerable tenants. We will log any non emergency repairs and return to these once the pandemic restrictions are lifted.
We understand how concerned people are about the impact of the Covid-19 pandemic – particularly those who face losing their job.
If any tenant is worried about paying their rent as a result of the current situation then it is important to contact us as soon as possible.
We will always try to work with tenants to resolve arrears and can provide support, advice and assistance to help tenants make a welfare claim where appropriate.
Over the next few weeks we will contact our rent payers direct to check if there is any assistance we can offer. In the meantime, we would urge tenants who face financial difficulties because of the current crisis to get in touch with us as soon as possible.
If you need to contact us please leave a message on our main office telephone 0141 889 7105 and we will call you back within 24 hours (Mon – Fri). Alternatively email admin@paisleyha.org and your query will be directed to the most appropriate staff member.
Please monitor updates for Paisley HA services through our website www.paisleyha.org.uk. We will review our position once the current restrictions are removed.
Unfortunately, due to the current restrictions, we will be unable to issue communications by post. We would therefore ask that if you haven't provided us with an email address, that you send this along with your property address to admin@paisleyha.org.uk . We will send you an acknowledgement and start to use this as a means of communications going forward.
We would like to thank you for your patience and co-operation at this difficult time.
LOCAL EVENTS
NEWS
PERFORMANCE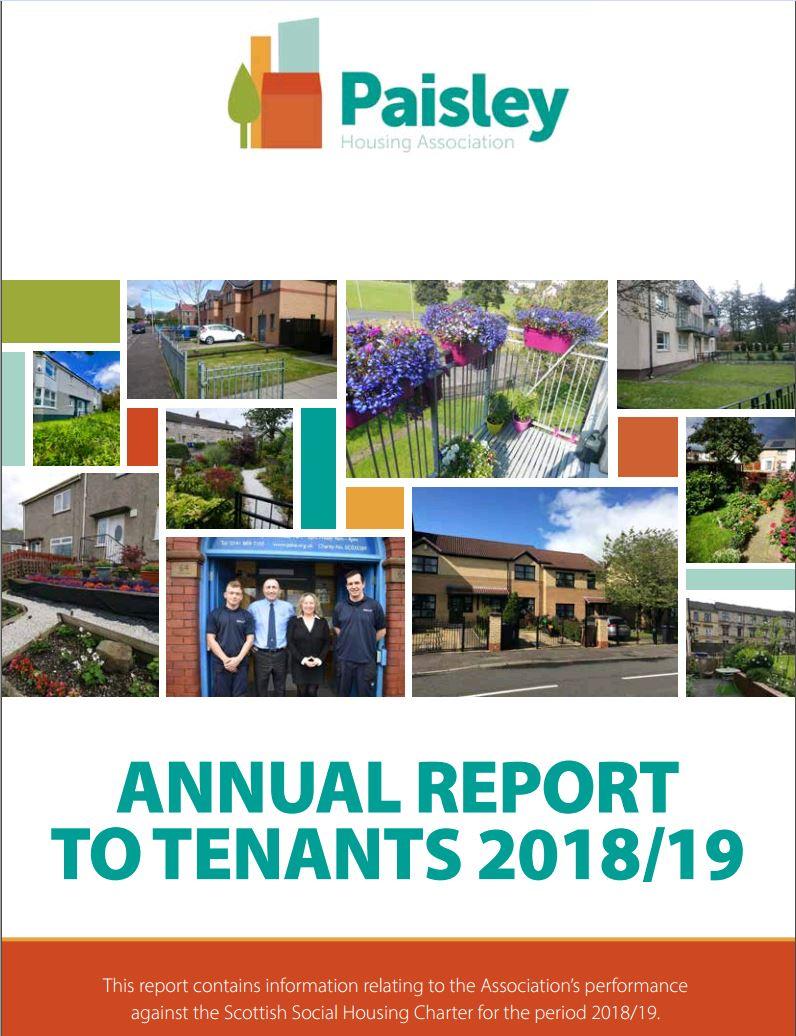 To find out how your we performed against the Scottish Social Housing Charter this year in our landlord report you can read this summary.
To see how our performance against the Scottish Social Housing Charter compares with others you can use this comparison tool provided by the Scottish Housing Regulator.