FAQ's for Tenants
FAQ's TENANTS (updated 20th September 2021)
Please Click Here to view the current FAQ
FAQ's for Owners
FAQ's for Factored Owners (updated 13th December 2021)
Please Click Here to view the current FAQ
GAS SURE Emergency Heating and Hot Water Repairs and Gas Safety Checks

IMPORTANT UPDATE ON GAS SAFETY INSPECTIONS - AUGUST
The Scottish Government confirmed that the mandatory annual gas safety regulations are reserved to the UK Government. This means they cannot suspend them. Gas Sure has therefore been doing gas safety checks since April.
Previously anyone who received the shielding letter to stay indoors for 12 weeks was deferred for the safety check, unless there was an emergency gas situation.
The Scottish Government has now ended shielding from 1st August.
From now on anyone previously shielding will therefore be contacted for an appointment. All the same protective measures will be in place as when Gas Sure are carrying out emergency/other heating repairs, and they will discuss your circumstances with you before making any arrangements.
Please tell Gas Sure if you/your household are self-isolating with symptoms, or have been told to isolate by Track and Trace as contractors may not enter your home.
Work will be carried out when the isolation period is completed.
Energy Update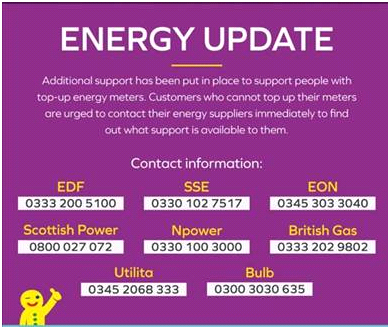 Cyclical Painterwork - June 2020 - FAQ for Tenants
FAQ TENANTS 22 JUNE 2020
CYCLICAL PAINTERWORK
PHA wants to update you on how this contract will be dealt with to ensure your safety during these difficult times.
Question - Who is going to do the work?
Answer. - JS McColl has been appointed to carry out the painter work programme. All of their painters have completed COVID19 awareness training and therefore understand the importance of the 2 metre rule and will not under any circumstances breach social distancing guidelines. They will only attempt to work on areas that are readily accessible.
Question - What is the scope of the works?
Answer – All previously painted external surfaces (e.g. railings, window frames, and the front/rear close doors) are to be painted. No internal areas are to be painted.
Question - What safety measures has the contractor put in place whilst carrying out the works?
Answer - All door handles, handrails, and door entry call buttons used by painters will be sterilised and wiped down with sanitiser. They will ensure that they leave all work areas clean at the end of each shift and will sanitise any areas that they have come into contact with. Painters will wear PPE at all times while carrying out works and while in the vicinity of tenants.
Painters will always segregate the work area with barrier tape and cones. They will also ensure that signage is displayed in a highly visible manner to ensure that all tenants and members of the public are aware of the work being completed and are aware of the social distancing measures to be followed
Question - How will the contractor access the rear garden?
Answer - Access to the back court will be obtained via the closes or the back gate. Access through the close will be very brief (if required) and will be obtained via the service button which will be sanitised before and after use.
Question - What colours are going to be used?
Answer - The external colours will be painted like for like. We will not be doing galvanised metal fencing or UPVC or galvanised surfaces.
Question - Will the work schedule include weekend working?
Answer – No weekend working will be undertaken.
Question - Is anything required by me during the works?
Answer – During the works if any opened windows can be closed and any items in the rear backcourt be sited in a safe location to allow the painters access.
Question - Who do I contact if I have any questions?
Answer – If you would like to discuss the proposed work in more detail then please call JS McColl site supervisor Gordon Murphy on 07468 609 875 or their offices on 0141 946 1062.
For any problems contact PHA on 0141 889 7501 option 1.
Our Technical staff will get back to you within 24 hours.
Thank you for your co-operation during the painter works.