Future Foxbar
Date:
20 June 2018 to 15 July 2018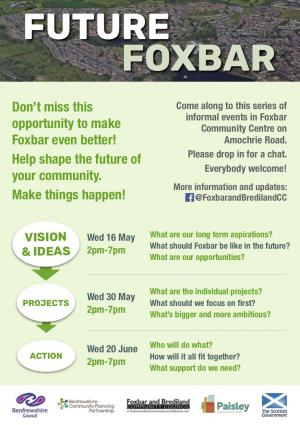 About this Event
Yesterday saw our third and last drop-in session to shape the future plan for Foxbar. A big thank-you to over 40 folk who came along to see the ten community priorities that have emerged from the conversations and consultations over the last few weeks.
If you weren't able to come and cast your votes, do it online now - just click here: goo.gl/Cyb9UB
Whether you're a resident of Foxbar or want to support the community, please vote!
And please share!
facebook.com/FoxbarandBredilandCC
or
What next? We'll be at the Paisley Housing Festival Day at Oliphant Court on the afternoon of Thursday 12 July, so you can catch us there for a chat. We'll be pulling together the work into a plan over the next few weeks.
After the summer holiday the Community Council will be organising a public get-together to launch the plan - and starting the real work of making Foxbar an even better place!
Don't forget to cast your votes online if you live or work in Foxbar.
Collaboration is the name of the game, and we need to know where to focus our energy!