Future Foxbar
Date:
16 May 2018 to 20 June 2018
Where:
Foxbar Community Centre
Amochrie Road
Foxbar
Paisley
PA2 0LB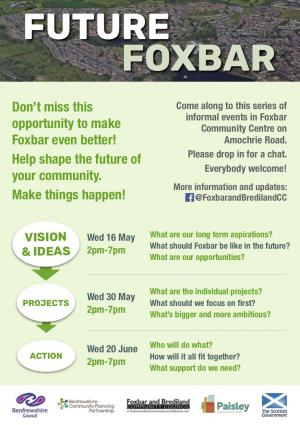 About this Event
Renfrewshire Council, the Community Planning Partnership, Foxbar and Brediland Community Council and Paisley Housing Association area starting an exciting new project to make Foxbar even better. Over the next couple of months, the local community will work collaboratively with the Council and other partners to determine how Foxbar should develop in the future.
Everyone is welcome to a series of three public drop-in events from mid May to the end of June:
1. At the first event on 16th May, we'll be looking for your ideas for the future of Foxbar.
2. At the second event on 30th May, we'll work up how to take those ideas forward, with help from a team of planners, architects and others.
3. At the third event on 20th June, the focus will be agreeing how to make things happen.
Each event will be a drop-in session between 2pm and 7pm in Foxbar Community Centre on Amochrie Road.
We don't know yet what projects will come out of this: that depends completely on what local people suggest - which is why it's so important that anyone who's interested should come along.
To give you a flavour of what we've heard so far from discussions with community groups, businesses and schools, potential ideas include community allotments, improving Durrockstock Park, more activities in community facilities to tackle social isolation amongst older folk, activities for teenagers, making more of the potential of Gleniffer Braes, and more housing on derelict sites for elderly folk and families in particular.
If you're involved with a community project or would like to support community activity, whether it's new or already happening, this is a great opportunity.
So, what do you want Foxbar to be like in the future? Come along on 16th May and have your say! Let's shape our community and make things happen!
There are more details at Facebook.com/FoxbarandBredilandCC… please circulate around your networks, friends and neighbours!