Latest Information from PHA
GAS SURE Emergency Heating and Hot Water Repairs and Gas Safety Checks

Update 27/3/2020
Gas Sure has made the Health and Safety decision to suspend all works within tenanted properties during lockdown unless it is an absolute emergency. Emergencies are a severe water leak (from a boiler or radiator where the water cannot be contained and is causing significant damage), gas leak and where there is danger to life or limb. They will assess each phone call and will also ask you about your household so they can prioritise the most vulnerable.
If you report that you have no heating and/or hot water then Gas Sure will be able to leave temporary heaters at your door-at a safe distance. Unfortunately there is no facility to provide temporary hot water.
Until further notice Gas Safety checks have also been suspended. Gas engineers will not attend any appointments already made.
Energy Update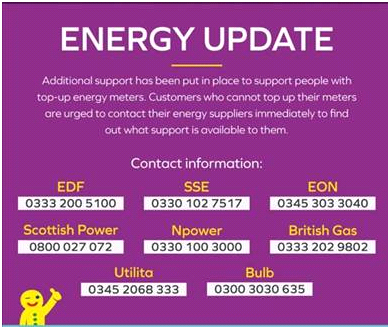 Friends Against Scams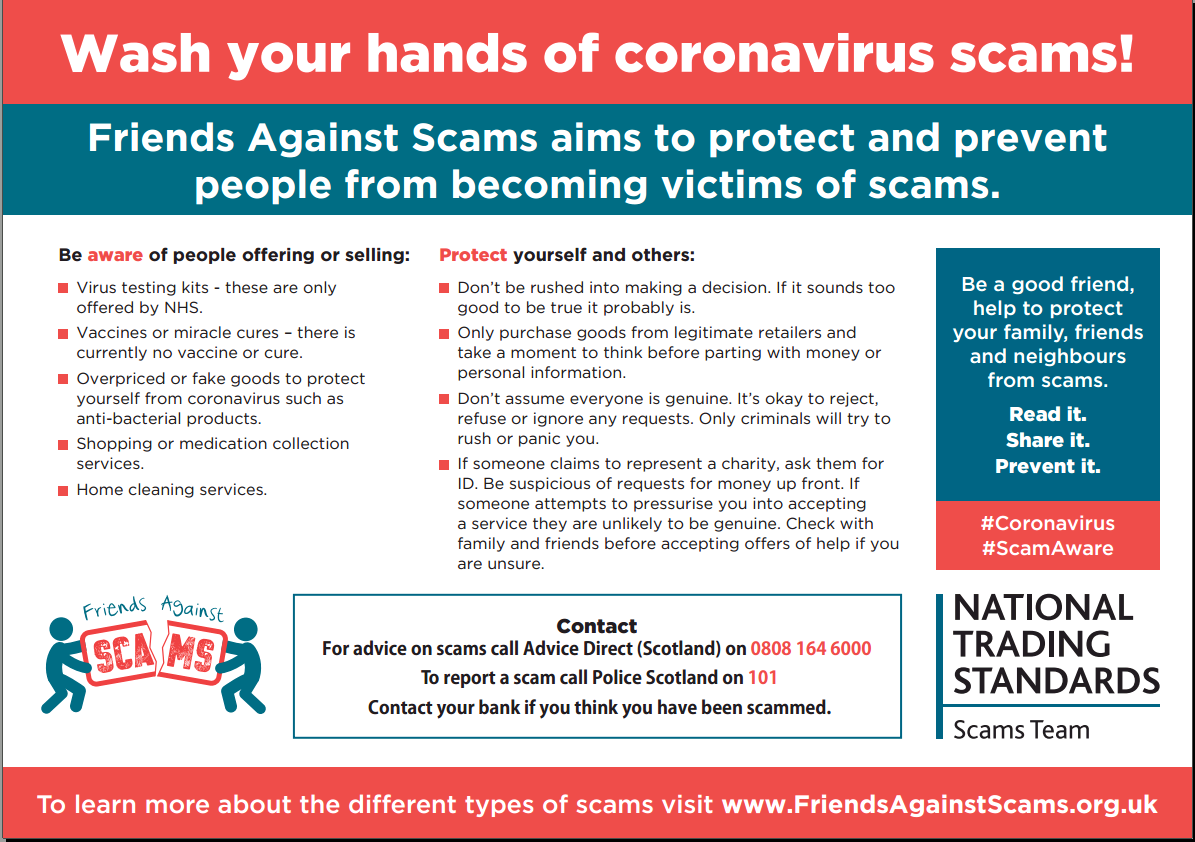 Adult Support and Protection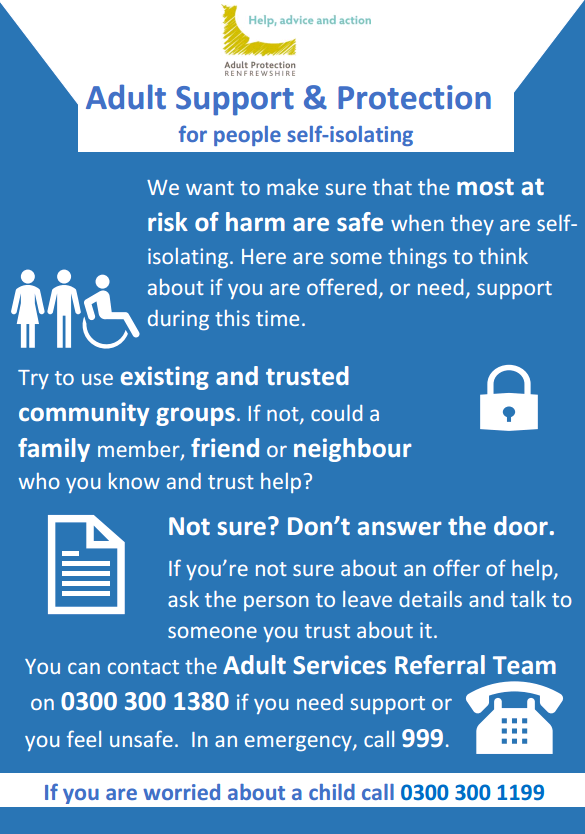 Who Cares Scotland delivers Coronavirus Support

If you are Care Experienced and need support during the Coronavirus Epedemic then Who Cares? Scotland has a dedicated helpline that you can call. Details can be found on their webpage at https://www.whocaresscotland.org/coronavirus-support/.
They are also staying connected to their members through phone and social media and have activities that you can get involved in.
Benefit Changes announced to help with Coronavirus
Posted on 23rd Mar 2020
The government has announced major changes to the way that Universal Credit will work for the next year in order to assist claimants throughout the Coronavirus Epedemic.
In short these changes are:
• Universal Credit payments will be increased by approximately £20 per week for all claimants for the next year.
• The minimum income floor will be suspended for self employed claimants, this is really important as it means DWP cannot assume that you have a higher level of income than you actually have.
• Statutory Sick Pay will be paid from the first day of sickness, rather than the 4th.
• All Jobcentre appointments have been suspended for the next 3 months
• All face to face medical assessments have been suspended for 3 months
Full details can be found here https://www.understandinguniversalcredit.gov.uk/coronavirus/.
If your income has reduced due to the Coronavirus, you can get advice by calling our Welfare Benefits Officer on 0141 583 4123.
BBC News The companies that need workers - links to companies looking for employees during the Corona Virus
It is important to note as the situation changes daily there is no guaranteed that positions will stil be required.
Tesco said last week it is bringing in up to 20,000 new colleagues to work in its stores for at least the next twelve weeks. You can apply here.
Asda said it wanted to recruit more than 5,000 temporary staff from the pool of workers whose jobs have been impacted by the virus. Here is the application site.
Aldi announced it was looking to fill 5,000 new temporary posts and take on 4,000 permanent new workers for jobs in all its stores and distribution centres. Details can be found here.
Morrisons said it would be recruiting about 2,500 pickers and drivers, plus 1,000 staff in its distribution centres. It's accepting applications here.
Lidl said it would create about 2,500 temporary jobs across its 800 stores in the UK. The jobs site is here.
Lloyds Pharmacy The chemist chain needs 1,500 temporary and permanent roles filling over the coming days. Vacancies include dispensers, pharmacists, delivery drivers and warehouse staff across its 1,400 branches For information on the roles and to apply, click here.
C
ommunity Integrated Care
The social care charity has hundreds of new vacancies across the country.
It says: "We are currently recruiting for hundreds of support worker roles across England and Scotland to help support vulnerable people with their daily routines."
Candidates can register their interest here.
Care UK has several hundred opportunities at its 125 homes from Aberdeen to Dorset, including several in London. - more on that here.
Dairy brand Müller has launched a nationwide recruitment drive for up to 300 key workers, ranging from delivery drivers and dairy technicians to factory operators, packaging operatives and garage mechanics. You can apply here.
Milk and grocery delivery business Milk And More is looking for 100 additional milkmen or women who have a full UK driving licence and are happy to work nights. Visit their careers website for more information.